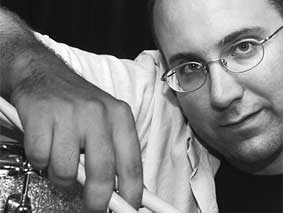 THE ORGANIC MODE (A/USA)
Michael ERIAN_Saxophon
Rob BARGAD_Hammond-Orgel
Klemens MARKTL_Drums
Die Zusammenarbeit zwischen Rob BARGAD, Michael ERIAN und Klemens MARKTL besteht seit zwei Jahren.
Im Sommer 2004 entstand das Trio mit der Besetzung Saxophon, Hammond Orgel und Schlagzeug. Eine Momentaufnahme der Band ist auf der CD "What about love" dokumentiert, sie erscheint Anfang 2005 bei dem Tiroler Plattenlabel "Composing-Company".
Die Intimität der Triobesetzung ermöglicht einen spontanen Umgang mit den Kompositionen, der auch für die Musiker immer wieder neue Aspekte entstehen lässt. Das Repertoire der Band erstreckt sich von Kompositionen der Bandmitglieder über Jazzklassiker bis hin zu Soul- und Boogaloo-Stücken, wobei Rob BARGAD auch als Sänger zu hören ist.
Rob BARGAD
b. 1962, Boston, MAPiano, Organ, Songwriter, Arranger, Composer, Producer, Vocalist
After studying piano for 3 years with Kenny Barron at Rutgers University, Rob moved to New York City in 1984. Besides leading his own quartet, he served as accompanist for singing legends Little Jimmy Scott and Dakota Staton. In 1987 he joined the Lionel Hampton Orchestra, with whom he toured the United States, Europe and Japan. And in 1991, Rob joined the Nat Adderley Quintet, with whom he remaind for 8 years, touring the world and recording 8 CDs.
Along the way, Rob has performed, toured and/or recorded with: The Harper Brothers, Jimmy Cobb's Mobb, Gloria Lynne, Jeannie Bryson, Roy Hargrove, Laverne Butler, The Walter Booker Quintet, Keiji Matsushima, Yoichi "Monkey" Kobayashi, Scotty Wright and pop singer/songwriter Justin Tracy.
Mr. Bargad is an accomplished arranger, producer and songwriter. His songs have been chosen for several projects, including the title track of Dena deRose's CD, "Another World" (Sharp Nine Records), and for the independent film "Four Corners of Nowhere" (Dir. Steve Chbosky, 1996).
Rob has recorded 2 CDs as a leader: "Better Times" (Criss Cross 1086CD) in 1994, and "The Shadow Of Your Smile" (Alfa Jazz ALCB3069) in 1996. Rob's song-writing, arranging and vocal talents can be heard on vocalist Carolyn Leonhart's CD, entitled "Steal The Moon" (Sunnyside SSC 1086D).
In June/July of 2001, as pianist/vocalist for the Fine Wine Trio (www.FineWineTrio.com), with Gene Perla (bass) and Bobby Kapp (drums/vocals), Rob completed a tour of Africa and Jordan representing the U. S. State Department as "Jazz Ambassador".
In 1999, Rob was introduced to the Hammond B3 organ by his mentor and legendary jazz organist Seleno Clarke. Rob now plays organ and many of his gigs in New York at FAT CAT, SMOKE, KNITTING FACTORY and at Harlem's legendary AMERICAN LEGION POST 398.
Michael Erian
Musikalische Ausbildung:
• 1990 – Jazz-Diplom (mit Auszeichnung) am Kärntner Landeskonservatorium;
Studium in Graz an der Jazzakademie.
• 1995 – Abschluss am "Royal Conservatory" in Den Haag Netherlands,
bei John Ruocco.
• 1998 – Diplom am "Royal Conservatory" als Bachelor of Music (dozierend musicus- mit Auszeichnung und Preisträger des Kolchschotenfonds der Stadt Den Haag)
• 1999 – Diplom am "Royal Conservatory" als Master of Music
Musikalische Laufbahn und Projekte:
• Mitbegründer der Jazzgruppe "Prima Volta"; (1989)
• Mitglied des "J.A.M. – Austria Jazz Orchestra" , Leitung: Erich Kleinschuster; (1991)
• Mitglied bei "Criss-Cross", Leitung: Adriane Muttenthaler
• Mitbegründer der Band "Grind 6"
• Engagement bei der Radio-Bigband Laibach
• Michael Erian Quintett (Auftritte u.a. bei Carinthischen Sommer)
• Michael Erian / Olaf Stötzler – Quartett
• Mitglied des Primus Sitter – Quartett
• Diverse Jazzformationen in In- und Ausland
• Lehrtätigkeit beim Musikforum Viktring, Gastdozent am Konservatorium in Mexico City, beim Musikcamp der Stadt Villach und dem Musikworkshop in Wolfsberg
• Zusammenarbeit mit dem Kärntner Madrigalchor und Aufführung der Eigenkomposition "Carinthian Summer" beim Fest der Begegnung auf
Schloss Straßburg (Oktober 1999)
• Diverse Jazz-Kompositionen
• Mitglied der Vienna Concert Big Band unter Ed Partyka
Auftritte:
• Jazz–Fest-Wien
• Carinthischer Sommer
• Jazz-Jamboree Warschau
• Wiener Festwochen
• Jazz-Festival in Montreaux
• Northsea Jazz-Festival in Den Haag
• Konzert in Noor Al Hussain Foundation in Aman, Jordanien
• Auftritt im Jazzclub "Hot-Brass" in Paris mit Duke Ellingtonproject
des Royal Conservatory Den Haag
• Carinthischer Sommer – Michael Erian Quintett
• Auftritte bei Three Nights of Jazz NO BORDERS – mit Musikern aus Italien, Slowenien, Frankreich und Österreich
• Mitwirkung bei der Aufführung von Werken der Preisträger des Gustav Mahler Kompositionswettbewerbs der Stadt Klagenfurt 1999
• Zusammenarbeit mit Musikern aus Sardinien und Auftritt beim Jazzfestival in Calgheri 1999
• Zahlreiche Studioproduktionen und Auftritte auf Bühne, Rundfunk, TV mit diversen Jazzformationen in Österreich, Deutschland, Niederlande, Belgien, Frankreich, Polen und Jordanien, Spanien, Dänemark, Italien, Slowenien, Türkei, Mexico …….
• Jazzfestival "Abbaye Royale du Moncel Pontpoint" in Paris
Preise :
• 1. Preis beim Shak-Jazz-Concours 1993 in Den Haag
• 3. Preis beim Europ Jazz-Contest-Belgium 1994
• 1. Preis beim Middelsee Jazz-concours 1995 in Leuwarden mit Einladung
zum Northsea Jazz-Festival 1995 in Den Haag
• Preis des Kolchschotenfonds der Stadt Den Haag
CD`s:
• Sometime Somewhere – (Prima Volta)
• Minor Affaire – (Minor Affaire)
• visions & realities – (Criss Cross/Extraplatte)
• JAM – (The Austrian Jazz Orchestra)
• Round Christmas – (The Austrian Jazz Orchestra)
• Arnulf Ochs Quintett – (Arnulf Ochs/a-records)
• Kaleidoskop – (Criss Cross/Extraplatte)
• Sex & Other Sad Stories – (Threestyle)
• Welcome to my world – (Anette von Eichel/a-records)
• We´ll see – (Tonć Feinig/Extraplatte)
• isonzo – (Michael Erian/Extraplatte)
• Kristjana – (Kristjana Stefansdottir/Edda)
• Jakob Frandsen Quartett – (Jakob Frandsen)
• Vienna Concert Big Band feat. Wolfgang Muthspiel – (Quinttone)
• Winnetou – (couch-ensemble/JAZZ´n´ARTS)
(zitiert aus CD Arnulf Ochs Quintett)
The frontmen of the band is the truly wonderful saxophonist Michael Erian. Michael has been around.After graduating at the conservatory in Klagenfurt, he continued studying in The Hague with John Ruocco (another great secret!). Over the last years he has won several prizes (Middelsee, European Jazz Concourse Brussels). He also has been performing all over Europe and appeard at festivals like the Northsea Jazz Festival, Montreux und d´the Jazz Jamnoree in Warschau.
Michael is a striking instrumentalist. Strong, emotional sound, effortless control over the instrument and the music. Here is a young man with a very bright musical future ahead of him. A group of talented musicians, put together by a strong guitairst/composer; well recorded European music,
music of today,
music of the next century.
Enjoy…………Hein Van de Geyn, Dordrecht, May 4, 1998
Klemens Marcel MARKTL – (drums)
• Geboren am 10. August 1976 in Klagenfurt/Ktn.-Österreich
• Musikalische Grundausbildung an der Musikschule Friesach/Ktn.-Österreich
• Juni 1997: Diplom mit "Ausgezeichnetem Erfolg" am Kärntner Landeskonservatorium in Klagenfurt unter Prof. Erich Bachträglund Prof. Harald Neuwirth
• Student am Königlichen Conservatorium in Den Haag an der Amsterdams Hogeschool voor de Kunsten (NL)
• Studien in New York bei Kenny Washington, Lewis Nash, Carl Allen, John Riley, Jeff Hamilton, Joe Fornsworth, Bill Stewart, Willi Jones III u. a.
Musikalischer Weg:
Gründer des Jazz-Sextetts "The Kickers"
Auftritte unter anderem mit Erich Kleinschuster, Harald Neuwirth, Peter Herbert, Lee Harper, Heinz v. Hermann, Wolfgang Puschnig, Ernst und Thomas Wallisch, Stefan Gfrerer, Rudi Wilfer, Peter Ugrin, Frans Elsen, Jasper Staps, Ulli Junemann, Bob Mover, Michael Erian, Primus Sitter, Andreas Mittermayer, Bob Wijnen, Jurai Stanik;
Kärntner Sinfonie Orchester Klagenfurt, Mitglied beim Salonorchester "Casablanca", Stadttheater Klagenfurt, Big Band des köngl. Conservatoriums Den Haag unter der Leitung von John Ruocco, Jazzgruop "4 up high" u. a.
Konzerte:
Two Nights of Jazz, Innerberger Kulturtage, Verein Innenhofkultur, Porgy&Bess, Jazzclub Kamot, Schloß Ebenau, Jazzclub Sanuk, Reigen Wien, Jazzclub Barcelona, Jazzfestival Lent (Maribor), Regentenkamer NL, SJU-Huis NL, De Pater NL, Jazzpodium Dordrecht NL, The Duke NL und weitere diverse Jazz-Club in NL, Belgien Deutschland u.a.