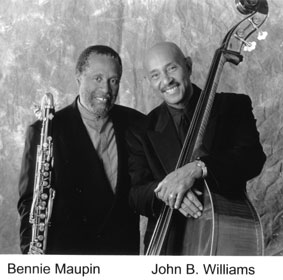 MAUPIN-WILLIAMS-PROJECT
Bennie Maupin_sax, bcl
John B. Williams_b
Martin Reiter_p
Alex Deutsch_dr
Luis Ribeiro_perc
Einer der ganz großen des amerikanischen Jazz kommt Anfang August nach Kärnten : Bennie MAUPIN :auch berühmt ob seines kontemplativen Sounds am Sax; er spielte u.a. mit Miles Davis ( Bitches Brew), Pharaoh Sanders oder Chick Corea. John B. Williams steht Maupin im Rennome in Nichts nach; er ging und geht auf Tour mit Bekanntheiten wie : Horace Silver, Randy Brecher oder Billy Cobham.
John B. Williams
Most bass players are content hanging in the background, enjoying the supportive role customary of their instrument. But every once in a while a bass player is so talented and charismatic he finds his own spotlight.
John B. Williams, perhaps most recognizable from Doc Severinsen's Tonight Show Band or the Arsenio Hall Show band "The Posse," has earned a place under the spotlight. Since the mid-'60s, Williams has played with the likes of Hugh Masakela, Freddie Hubbard, Count Basie, Louis Armstrong, Dizzy Gillespie, the list goes on. Valentine's week he was in town performing with the Nancy Wilson Trio at Yoshi's.
Williams has performed all over the world, but asserts that Northern California audiences are among the most enthusiastic and appreciative anywhere. This was certainly true at Yoshi's when he played beside the inimitable Wilson, whose voice is as strong and true as ever. The show began with a long instrumental featuring solos from the bass, keys, and drums. Williams' uniquely textured bass style is something you don't merely hear, but feel deep in your bones. People were shouting his name, lauding him as the jazz giant he is. The set ran the gamut from jazz standards to more modern pieces. Wilson's humorous rapport with the audience gleaned her almost as much laughter as applause. It was a dreamy, feel good show, fitting the whimsical theme of the week.
I met Williams at Jack's Bistro just around the corner from Yoshi's, and enjoyed a lively meandering conversa-tion about his amazing career and the importance of music. Williams grew up in a musical household, but says he would have found music no matter what. He's always had an affinity for the bass.
Lamenting the lack of music programs in schools today, Williams speaks of his responsibility as a musician. "We all stand on the shoulders of musicians who came before us, so it's my responsibility to make my shoulders strong enough and share my exper-iences with aspiring musicians. Everything I have is on loan, for me to utilize. And I have to pass it on to keep growing."
In 1992, when the Rodney King incident stirred up LA, Williams responded by colla-borating with OBIE-Award winning playwright Bradley Rand Smith. Together the two created monologues aimed at coaxing scared, white audiences back into LA's black commun-ities. Williams then performed them at Marla Gibbs' Memory Lane. This led to the birth of "Jazz Theater," a new musical genre that Williams describes as "very true to life, like jazz itself."
Last year, paired with longtime friend and famed saxophonist Bennie Maupin, Williams went to Okinawa, Japan to create his latest endeavor, The Maupin/ Williams Project. The CD is three-dimensional jazz; a landscape the listener can enter into. It's also the first to feature Williams' own music, marking another phase in his epic career. "Can you believe it's my first CD?" he asks. "I've played on so many other peoples' CD's — it was time to document some original music. Bennie and I had talked about collaborating for the past ten years. We had done straight-ahead jazz for so long, it was time for our voices to be heard. This music comes deep from the heart and reflects all the experiences we've been blessed to have. This opens up a whole new world for me."
Williams draws on his exper-ience when talking about the significance of music. He points out that some cultures use music to find God, "In the beginning there was the word, and the word was sound." Reflecting on a time he purchased a sitar in the Middle East, Williams says he searched high and low for written music so he could teach himself how to play. Finally, a scholar in Egypt informed him that there is no written music for the sitar, it's passed down. And once a student learns 5,000 ragas, he becomes a master. "The history of music is so fascinating," he says. "The more I learn, the dumber I feel. You asked me what else I want to accomplish with this lifetime? Just to play the music I hear in my head the way I want to would take several lifetimes. You are what you play; you have to live jazz to play it. Many people don't realize Bach was an original jazz musician — he wrote var-iations on a theme. In jazz, you play the theme and then the improvised solo. Miles Davis once told me the greatest thing I'd ever heard as far as how to approach a solo: When you take a solo you try to rewrite the song."
With the release of The Maupin/ Williams Project, Williams is redefining what solo means in a remarkable way.