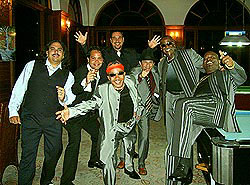 HABANA SON CLUB_Schloss Damtschach
Programm:
– ab 18 Uhr ist das Haus offen
– 19.30 Uhr – Vernissage
– ca. 21 Uhr – Habana Son Club
from Havana / Cuba
Style: Contemporary traditional Cuban music – Son, Guajira, Rumba, Chá-chá-chá, Ritmo Pilon
on tour: November 2003 to March 09 / 2004
Contemporary traditional Cuban music is the essence of HABANA SON CLUB style. Every individual musician has his own virtuosity performing in a spontanious and contagious way, literally playing with the instrument and his fellow band members on stage. The performance is not limited to the stage area and the contact with the audience is an essential part of the group´s musical concept.
Great live performance with hot Cuban rhythms that make everyone´s body shake!
————————————————————————
BIOGRAPHY & RELEASE
Besides their own compositions HABANA SON CLUB also plays famous songs of other Cuban musicians like Compay Segundo, Adalberto Alvarez, Juan Almeida, Solina Carrillo, Miguel Matamuro and others. After a short period of reorganization and minor changes in the line-up (Luison, singer, came back after a break due to medical reasons and Asiak joined the group with great support on piano and arrangements) new compositions keep HABANA SON CLUB working forward towards a fresher, dynamic and even more energetic style. "Our intention is to keep inovative, never stop and inventing compositions that are fun in text and music – for the audience and for us musicians. This is possible as we are travelling to many countries and observe the people and the way they are. Comparing others to us Cubans makes me come up with so many ideas for further songs." Asiak, who just recently joined the band is a computer "addicted" musician. With his background in classical piano, his passion for Cuban music and curiosity to explore different sounds, Asiak´s contribution to the band is a very fruitful and inovative one. Luison, leadsinger, makes everybody move, despite him being one of the elder members of the group. On stage he spreads amazing energy and loves to capture the audiences attention to participate in the show. He´s a live-lexica of Cuban music, an experienced singer and great reference source for the group. Vicente, also leadsinger, is from another generation and a very passionate singer and has already performed with Luison for many years, before joining together in the HABANA SON CLUB.
"ALMA INSPIRADA"
Caroline
Bilder und Glasobjekte
Burgis Paier
Altäre
Vernisage 26. Juni + Kubanisches Fest, Musik "Habana Son Club"
Gastronomie: cik
Finisage 17. Juli + Vortrag von Mag. Adelaida Pichler, Musik DJ Boutros-Boutros, Gastronomie: cik
2004 ist das internationale Jahr zum Gedenken an den Kampf gegen die Sklaverei und ihre Abschaffung. Unser Bezug zum Granatapfelthema zeigt sich einerseits im Symbol der bunten rhythmischen Lebenslust, andererseits im Gedenken an jegliche Form von Unfreiheit (Sklaverei): Die Kerne sind im Granatapfel eingeschlossen.