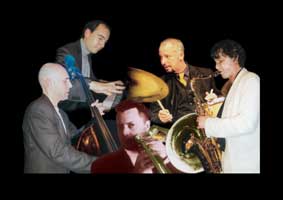 AUSTRIAN MUSIC CIRCUIT_2 | JOINVILLE
Im Rahmen der 2003 neu aufgenommenen Reihe AUSTRIAN MUSIC CIRCUIT werden Österreicher vorgestellt. Wir begannen mit ININA GAP und setzen fort mit:
HERWIG GRADISCHNIG
lineup von JOINVILLE:
Hank Gradischnig (A)_ts,bs
Greg Nagorski (PL)_trb
Oliver Kent (A)_piano
Marc Abrams (USA)_bass
Mario Gonzi (A)_dr
Das vom österreichischen Saxophonisten Herwig Gradischnig neu ins Leben gerufene Projekt JOINVILLE führt 5 der jüngeren Generation in Europa lebender Topmusiker zusammen.
Die Musiker haben untereinander wohl schon in jeder möglichen Kombination und in verschiedensten anderen Bands gespielt, alle 5 zusammen stehen nun aber erstmals gemeinsam auf der Bühne. Das Programm featured die Kompositionen von Kent und Gradischnig. Modern Straight Ahead Jazz auf höchstem Niveau !
Jazz is Jazz is Jazz is Jazz is Jazz is Jazz
Herwig Gradischnig_ts,bs
-We Three feat. M. Abrams, Chr. Salfellner
-Reunion Quartet feat. P. Cardoso, O. Kent, M. Gonzi
-Claus Raible Sextet feat. Brad Leali, M. Coleman, G. Nagorski, M. Abrams
-member of the VAO since 93
performed a. recorded a.o. with:
Chr.+W. Muthspiel, Fritz Pauer, Ingrid Jensen, H.M. Peterson, Ed Neumeister, Benny Bailey, Gary Dial,
Matthieu Michel, Kenny Wollesen, Karl Ratzer, Jim Snidero, Django Bates, Dick Oats, John Riley, Bugge
Wesseltoft, NDR B.B., EBU B.B., Jazz B.B. Graz….
selected CDs:
We Three – We See Tcb
Art and Fun / VAO Universal
Loopin' with Lea / C. Raible Organic M.
Hans Koller Jazzaward 1998
Oliver Kent_piano
performed a. recorded a.o.with:
Eddie Henderson 5tet, Valerie Ponomarev 5tet, Roman Schwaller 4tet, Art Farmer 5tet, Karl Ratzer Band,
Sheila Jordan, Rachel Gould, Lew Tabackin, Delfayo Marsalis, Marc Murphy, Howard Jonson, Nguyen
Le, Leo Wright, Benny Golson, Jimmy Cobb, Jonny Griffin, Ingrid Jensen, Idris Muhammed, Johannes
Enders…….
Oli teaches jazzpiano at the Vienna Jazzconservatory and is not only one of 'the' european Jazzpianoplayers, he is as well a great composer and arranger.
selected CDs:
400 years ago tomorrow / O.K. Trio Mons
Some changes in life / R. Schwaller JHM
Moondancer / K. Ratzer Enja
Hans Koller Jazzaward 2002
Greg Nagorski_tb
hat 10 jahre in den USA gelebt und gearbeitet, u.a. mit michael brecker, red rodney, phill woods, slide hampton, joe henderson, ray charles, ira sullivan und tito puente und wurde von 96 – 99 zum besten polnischen jazztrombonisten gewählt.
Marc Abrams_bass
performed a. recorded a.o. with:
Benny Bailey, Chet Baker, Karl Berger, Hermann Breuer, Marshall Brown, Al Foster, Kenny Werner, Lee
Konitz, Kenny Wheeler, Dennis Charles, Jim Pepper, Sal Nistico, Steve Lacy, Tony Lakatos, Steve Großman,Randy Brecker, Mike Nock, Joanne Brackeen, Kenny Clarke, Gil Evans, Cedar Walton, Johannes Enders,….
Marc lives in Italy from where he is hired all over europe from all different bands and soloist.
He also performs contemporary music and has a wide experiance conducting musicworkshops.
selected CDs:
Naide Seefelder, Copeland, Ratzer, Abrams WWR
Chet Baker in Rosenheim Timeless
Keptorchestra meets J. Lovano Miss Etna Caligola
Mario Gonzi_drums
performed a. recorded a. o. with:
Jonny Griffin, Charly Rouse, Eddie 'Lockjaw' Davis, Sal Nistico, Bob Berg, Claudio Roditi, Jimmy Woode,
Dado Moroni, Reggie Johnson, Bobby Watson, Jim Pepper, Buddy de Franco, Chuck Israels, Larry Porter, Isla Eckinger,Art Farmer 5tet, Benny Golson, member Of the VAO
Mario is one of the few real outstanding european Jazzcombo- as well as Big Band drummers .
selected CDs:
Live at Jazzland / A. Farmer 5tet PAO
Nature Way / K. Dickbauer-H. Joos PAO
D. Ellington-Sound of love / VAO TCB
Roots Ahead / H. Sokal Trio
Hans Koller Jazzaward 2oo1