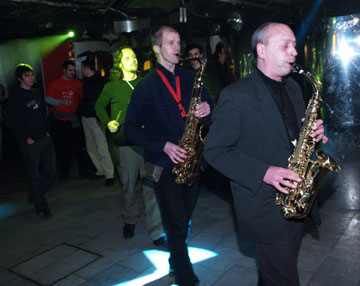 ACCELERATED EVOLUTION ORCHESTRA_from Zagreb
Der Schwerpunkt "Szene Süd " (Die Musik Exjugoslawiens) wird mit dem AEO eröffnet:
lineup:
Victor Lipic_upright piano
Igor Pavlica_tp
Jerko Valdevit_tp
Sven Buic_double bass
Luka Persic_saxes, keyboards, computer
Dragan Pajic Pajo_guitars
Founded in 1987, Cul de Sac ensemble was a meeting point for Dragan Pajic-Pajo (Bordel, Sumrak, Leteci Cirkus Dragana Pajica) already a veteran of Yugoslav alternative rock, with younger musicians from Haustor. Very soon they played No Wave/free improvisation in numerous contexts, from galleries to theatres, often participating in open space performances of Kugla-House Of Extreme Music Theatre. The performances were always supported from numerous visual artists, that worked with the ensemble. The hype was kept alive by numerous editions of tapes, distributed around Eastern Europe.
During the 1990s, the artists spent their destinies in exile, taking part in underground music circuits, like freicore – while living in Berlin, and free improvisation and new electronic improvisation – while living in Amsterdam. In 2003, Pajic has formed Accelerated Evolution Orchestra, with surviving members that live around the world, and few younger musicians."
joining:
Jerko Valdevit (1976) multi-instrumentalist (tenor
sax, flute, plastic clarinet), founding member of "iL
Gruppo delle Azioni Progressive" and frequent collaborant
of AEO. Valdevit played with improvisers as Joe Morris,
Charles Gayle, Marko Ciciliani, Anthony Coleman and Kruno
Levacic, poet Bela Marias, and some post-rock groups, as
Uzrujan, and post-tribal ensemble Zli Bubnjari.