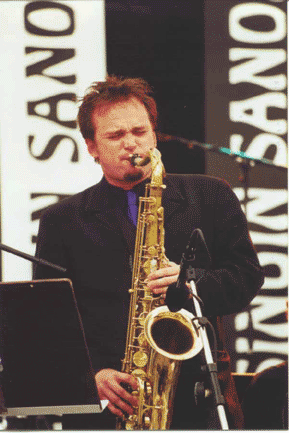 THEAK-TET in concert + on air: radio agora 105,5
james muller (gt), phil stack (bs), craig simon (ds), david theak (ts)
Radio Agora überträgt das Konzert live aus dem Künstlerhaus und sendet im Rahmen des Jazztrain, des Glasperlenjazz und des cikjazz von 20.06 bis 23 Uhr!
Theak-tet was founded in 1997 to provide a platform for original improvised music compositions. We believe that the synergy achieved by working together as a group allows a freedom and communication not often possible with thrown together groups. The group plays original, harmonically inventive, melodic compositions that provide a platform for flowing improvisations.
Nominated for Australian Jazz Group of the year in 2000. Performance Highlights include Jazzclub Fasching (Stockholm, Sweden), Copenhagen Jazzhouse (Denmark), Apriljazz International Festival (Helsinki, Finland), Brussels Jazz Marathon (Belgium), Unterfahrt (Munich, Germany), Kaiserkeller (Detmold, Germany), Basement (Sydney), Bennetts Lane (Melb), Side On Café (SIMA), Lansdowne Hotel (Jazz Groove Collective) , Sydney Uni Jazz Festival, Strawberry Hills Hotel (SIMA), Hopetoun Hotel, Manly International Jazz Festival. The group successfully toured Europe in 2001 where they played to strong audiences in some of Europe's finest jazz venues. In January 2000 the group also undertook a highly successful tour of Australia where the group performed to sell out crowds in Sydney, Melbourne, and regional Australia as well as being recorded live at Bennett's Lane, Melbourne for Jim McLeod's Jazz Track for National radio.
TV appearances include the ABC's recent documentary on Australian jazz 'The Pulse', where theak-tet was a featured performer both on television on on the series soundtrack. Radio performances include repeated performances on ABC's 'JazzTracks', Radio Nationals 'The Planet' and 2SER's 'from the corner' and Theak-tet's music has been broadcast into South-East Asia via Radio Australia. Live radio performances include 2SER and ABC. Recordings include The 2000 Melbourne International Jazz Festival Compilation (which also includes Chick Corea and Gary Burton), 'From the Corner' an album showcasing Sydney's emerging artists. Both 'from the Corner' and their debut album 'yellow glasses' received favourable reviews both internationally and domestically, including a 4and 1/2 star (out of 5) review in The Sydney Morning Herald.
theak-tet personnel
David Theak (tenor saxophone) highly respected saxophonist / bandleader on the Australian jazz scene. David was the first musician to receive a Master of Music (jazz performance) from the University of Sydney and as a performer David has led his group theak-tet on tours of Australia and Europe including performances at many of Scandinavia's world class jazz venues and has been featured on dozens of Australian albums including Steve Hunters Nine Lives released nationally through ABC records and theak-tet's 'Yellow Glasses'. An experienced composer David compositions are frequently heard on National radio / TV. He has also written compositions for other groups including the Kristen Cornwell Quintet and has produced three albums including Jazzgroove, a compilation of Sydney's finest new improvised music. David is currently pursuing his performance career in Europe where he is working with Hammond organ virtuoso Barbara Dennerlein.
James Muller (guitar). Winner 2000 National Jazz Awards, ARIA jazz CD of the year 2001, MO awards jazz performer of the Year 2001. As one of Australia's most acclaimed and gifted jazz musicians, James has performed with Vince Jones, James Morrision, and the internationally acclaimed Chad Wackerman group. James has recorded three albums for ABC, and has performed on a multitude of local releases since moving to Sydney from Adelaide in 1997.
Phil Stack (contrabass) is one of Australia's most exciting and in demand musicians. Winner of 1997, Morrison Scholarship, Phil a member of James Morrison's quintet and has performed with such luminaries as Dale Barlow, Emma Pask, Sandy Evans and Rai Thistlethwaite.
Craig Simon (drums & cymbals) is the blazing new drum talent on the Sydney scene. Winner of the National drum play-off 2000, Craig has worked with Dale Barlow, James Morrison, James Muller, Mike Nock, Bob Sheppard (USA), Willow Nielson Quartet, and has performed domestically and internationally at many festivals.
Some other great musicians who have played with theak-tet in the past include Matt McMahon, Dave Goodmam, Greg Coffin, Nick Southcott, Phil Rex, Cathy Harley, Darrin Archer, Simon Sweeney, Ashley Sewell, Craig Scott, Sandy Klose, and Jasper Leak.
Reviews
'some of this country's most blistering young jazz talent' – Drum media 'theak-tet has the goods to become better known' – Cadence (US) 'Theak is a potent saxophonist for whom rhythmic drive and energy are high on the agenda.' – Sydney Morning Herald 'Theaks thoughtful and varied tunes produce some sparkling improvisations' – SMH 'he shredded the listener's expectations and knitted them back together in ways that could only be met with a disbelieving shake of the head' – SMH 'Theak is a heartening custodian of the future' – SMH 'the beautiful, textured scope of theak's tenor playing' – Drum Media
Live review – Side On Cafe – April 2003
Reviewer – John Shand, Sydney Morning Herald
Scratch the surface of most self-respecting musicians and any typecasting is swiftly shredded. Miles Davis and Charlie Parker both loved Stravinsky, among other 20th-century composers; Elvis Costello shrugged aside his pop halo to work with classical, jazz and cabaret artists; classic jazz patriarch Graeme Bell will attend a concert by modernist Mike Nock, and, in the other direction, Mark Isaacs will happily listen to Bob Barnard.
So it is no surprise that three members of James Morrison's band are also to be found inhabiting the pointy end of local contemporary jazz. Guitarist James Muller, bassist Phil Stack and drummer Craig Simon complete the current incarnation of Theak-tet, led by saxophonist and composer David Theak.
A couple of years in Germany seems to have hastened the evolution of Theak's music. Since he released Yellow Glasses in 1999 the band has been trimmed to a quartet, Simon has taken over the drums, a new album, Gamla Stan, has been released, and Theak himself now plays almost as much alto saxophone as tenor.
In fact some of the best music here was made on the smaller horn.
Resolve showed how this instrument suited the leader's agility of ideas, and even often made for a beefier sound – because of that very agility he pursues on the tenor. It sizzled over the rampant swing of Dust Mite, and reached an even higher intensity on a new composition called Watch Your Back.
There, and on some tenor pieces such as Coltrane's Lonnie's Lament, the saxophonist was bent upon fire and energy, punctuating his phrases with hoarse exhortations to himself and the band.
Perhaps the intent could have been modified more often. Muller's stunning Green Eyes, for instance, was compromised by overexuberance, while the sparse Gamla Stan showed just how lovely Theak's tenor could be.
An intoxicating zaniness animated Paul Bley, and there was something of the same quality in the head of Little Johnny's Lament, although it failed to infect the solos.
Muller routinely unleashed melodic cluster bombs over the rhythm section, in solos so captivating I periodically found myself having to remember to breathe.
Stack is a bassist who ensures the music is settled and cooking before looking for more adventurous options – a motion seconded by Simon, who contributed some engaging solos.
CD review 'Gamla Stan' – Australian Financial Review – 9/10
Reviewer – Shane Nicholls – 26 November 2002
Tenor sax player David Theak runs one of the most respected Sydney bands, which apart from his own prodigious sax also features the extraordinary James Muller on guitar, Phil Stack on bass and Craig Simon on drums. Theak-tet went overseas last year and this album is one of the results, recorded in Germany. They have a way of playing which never seeks to shoot out the lights yet has plenty of drive and focus. It's always happening but never strident. Theak's Trane inspired tenor occupies most of the spotlight but in the playing and writing the others take almost equal billing. This is a solid group effort. Time and again one notes the apposite guitar work – so many genres peak out of his synthesised originality – in what is another instance of the seemingly endless revelations of James Muller's many faceted talent. Similarly, his Paul Bley is one of the stand-out tunes. Its thoughtfulness – pensive and stately but not sombre – finds a parallel in Theak's dignified title track. Elsewhere, Dust Mite sounds like something straight out of the hard bop heyday, instantly familiar and crisply executed.
CD Review 'Gamla Stan' – The Bulletin
Reviewer – Adrian Jackson, Artistic Director Wangaratta & Melbourne Int. Festivals
"How many musicians in your Quartet, Mr Brubeck?" was a legendary faux pas from a Sydney press conference back in the '60s. The answer is the same as the number in a Theak-tet, the band led by tenor saxophonist David Theak. He was living in Germany in 2001 when he brought some Sydney mates (guitarist James Muller, bassist Phil Stack, drummer Craig Simon) over for a tour. This CD, recorded in Hanover, shows they were in blazing form, reaping the benefit of the countless hours they had spent jamming at home. Muller often thrills, but Theak holds his own, with forthright-sounding, intelligently paced solos.
CD Review 'Gamla Stan' – The Weekend Australian – 4/5
Reviewer – Ashleigh Wilson
'(one) more reason you don't need to look overseas to find attractive, high-quality jazz. From Sydney, saxophonist David Theak and his quartet Theak-tet have come up with a wonderfully satisfying recording that doesn't have a wasted note or a dull moment. Funny how this, one of the better australian jazz recordings of late, was made overseas – in Germany – while the band was on tour. Long a fixture on the Australian jazz scene, Theak is a strong player who always appears to push himself to find more within his music. And with compositions that sound reminiscent of John Scofield or Michael Brecker, Theak is backed, if not propelled, by an extremely competent band in James Muller (guitar), Phil Stack (bass) and Craig Simon (drums) – all acclaimed players who make every moment on this CD compelling.'
CD Review 'Gamla Stan' – Canberra Times
Reviewer – Michael Foster – Feb 2003
"Promoting the sounds of a quality cause."
Perhaps it is imagination, fuelled by prejudice, but the output and recognition of Australian jazz and its makers seems to be increasing.
Conjointly these have led to an understanding of and lift in the quality of the music played.
Visitors from jazz strongholds America and Europe readily acknowledge all these elements.
Jazzhead is among the many proudly promoting the cause, and these two CD's are the latest of their offerings heard.
David Theak, a finalist in the Wangaratta festival's National Jazz Award for saxophonists last November, is more than a fine musician. He is an entrepreneur who has taken his band far afield.
He founded the six-year-old band to provide a platform for improvised music compositions. Such a concept may seem contradictory, but the experimentation comes form the artistry of James Muller on guitar, Phil Stack on contrabass and Craig Simon drums and cymbals, and Theak's inspirational leadership.
Again the individual, and considerable, talents are moulded into an understanding which surpasses the individuals to produce music that, as with the Theak-tet, is absorbing, inspiring and entertaining while being gently provocative.
And, come to think of it, the Wangaratta festival should be added to the elements bringing jazz to the fore. At least seven of the musicians, to certain knowledge, have played prominent roles during the decade since the festival was founded.
CD review – Sydney Morning Herald December 13, 1999
Reviewer – John Shand
Nearer the centre of the jazz tradition, this is the debut from the band of Sydney saxophonist Dave Theak, whose gifted cast of collaborators includes two men-of-the-moment, guitarist James Muller and pianist Matthew McMahon.
Theak's thoughtful and varied tunes produce some sparkling improvising. He sticks to tenor throughout, his tart sound raw and refined, like a far-north Queenslander who's been to Oxford. His solos are bullish on the energetic tunes, and almost self-effacing when the feeling is more contemplative. Star-bursts punctuate Muller's radiant lines, while McMahon plays piano with the sensibilities of a fine orchestrator, and turns in a rivetting solo on 'Little Johnny's Lament', a swinging track rutted with bumps and potholes from no-nonsense bassist Phil Stack and drummer Dave Goodman. (rating 4 and 1/2 stars out of 5)
CD review – Cadence Magazine (US) – April 2001
Reviewer – Richard Kamins
The debut disk by theak-tet features a much younger group than above (Bernie McGann Trio) but no less dedicated. The band does itself an injustice by not including any information about its origins but I realise their wish to let the music do the talking.
Nothing wrong with that attitude, especially when the music is this good. The rhythmic drive of the title cut is balanced by Dave Theak's handsome melody. It starts slowly with guitar and tenor playing the theme but slowly begins to build as they move through the changes. Pianist Matt McMahon takes a reflective solo opening the way for the leaders more intense spot. The rhythm section has a different feel under the tenor, responding to his fire. Yesterdays News opens with a long, Bill Evans-like piano solo. Quiet, unrushed, it sets the tone for the simple melody that follows. Guitarist James Muller offers a solo with crisp, articulated notes and a drive not unlike Pat Metheny. By the time Theak reenters, the quier opening has made way for a driving rhythmic attack.
Other highlights include the intense hard-bop of Bista with more fine drum work from goodman and a running bass line. Little Johnnys Lament has a bluesy feel with spare accomaniment from McMahon behind Theak's hard solo. Goodmans fat back drums push the proceedings on The Hard Way Part II. He does a fine job kicking up the intensity level even as the front line attempts to hold back. Yet, the soloists eventually succumb to his incessant drive and it makes for pleasurable listening.
Theak-tet has the goods to become better known. The soloists have yet to shed their influences but the music does not really suffer. I imagine if the bands stays together and Theaks writing matures, they could impress a lot of people. As it stands, Yellow Glasses is a solid debut.
CD review – Drum Media, December 1999
Reviewer – Craig N. Pearce
Thrill seekers will hone in on this luscious morsel. It features some of this city's most blistering young jazz talent: Dave Theak, James Muller, Matt McMahon (who just won the National Jazz Award for piano), Dave Goodman and Phil Stack. It's a quintet of high Theakness, hungry and determined, savouring each precious note. The playing is sublime. Muller's liquid gold notes pour through glowing melodies, whilst McMahon's playing reaches deep within their mechanics. Theak surprises by his maturity, the textured scope of his tenor playing and his erudite leadership. He also knows how to write a song. This modern jazz at its best: free flowing, allegorical and inspired. Try Birdland.
Live TV review – Sydney Morning Herald – December 13, 2001.
Reviewer – John Shand.
……. Saxophonist Dave Theak's powerhouse quintet was a worthy foil. Their form of vitality requires less qualification, being of the sort to physically electrify the room from time to time.
Their opening, Dust Mite, by the leader, contained a solo from guitarist James Muller which shredded the listener's expectations and knitted them back together in ways that could only be met with a disbelieving shake of the head. In terms of both melodic conception and sound, Muller is as good an electric guitarist as I know of. Period.
His work is stunningly original, and yet his phrases have a natu