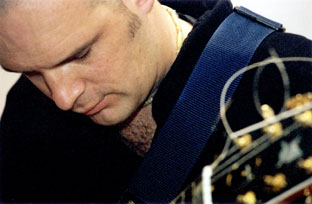 MUTHSPIEL_PENMAN_BLADE + quinton records
das komplette Konzert wird von Radio Agora aufgenommen und direkt – von 20.06 Uhr auf 105,5 – übertragen!
Quinton Records präsentiert sich:
Air, Love & Vitamins Tour 2004
Wolfgang Muthspiel_guitar
Matt Penman_double bass
Brian Blade_drums
On this tour WolfgangMuthspiel will promote his new record called "Air, Love & Vitamins" (release May 2004). The Tour starts on May 10th in London end ends on May 20th in Vienna.
About the album "Love, Air & Vitamins"
the air…
Wolfgang Muthspiel, Marc Johnson, Brian Blade. The lineup already sounds like the Who Is Who of jazz. But more than this – this is a really exciting trio. Not often you will find a small group that can sound so rich and intimate at the same time.
"Air, Love & Vitamins", the new album of the trio, is the successor to their highly respected record "Real Book Stories", an album of well known jazz standards. The tunes on this new album differ: Modern compositions of today's composers, and a few originals of Wolfgang Muthspiel, too. They vary from slow ballads with a somewhat folk music reminding song writing quality like Vince Mendoza's "Panis Angelicus" to hard swinging, even rocking tunes like Wolfgang Muthspiel's "After 6" to free improvisations on Carla Bley's "Floater". But this is not just a collection of single tunes, no. It is a real "album" thanks to the way the tunes are played: Open, fresh, with a lot of air around every tune, which makes it a real joy to dig deep into the music.
… about love…
Today the big challenge for way to many musicians in jazz seems to be to invent something completely new. And then in the end the music turns out not to be new at all, in most cases. Or they try to copy the big names of old days. Just few dare to try and find their own, personal way. And even more rare to find would be a group with it's own style. Well: Here it is. Three musicians who just love to play jazz, who just love to improvise, who love to experience the music. Not as three single "jazz stars", but as a band where everybody really enjoys listening to the others, too. This trio really has three centre points.
… and all the vitamins!
All this could be anaemic without the right sound. But Wolfgang Muthspiel, Marc Johnson and Brian Blade bring in a lot of vitamins to this excellent jazz diner. The singing heritage guitar of Wolfgang Muthspiel or the rich acoustic sound of his framework guitars. The warm, gentle sound of Marc Johnson's double bass, and Brian Blade's spectrum of playing, ranging from soft and melodic to very heavy and impulsive. That's the flavour of the vitamins we like, if life is supposed to go the really healthy way!
On tour instead of Marc Johnson is the young, but nevertheless already well-known bass player Matt Penman.
about the musicians
WOLFGANG MUTHSPIEL: Born in Judenburg (Styria) in Austria in 1965. Spends most of his time in New York. Aged 38, he can look back on a broad span of musical activities. Despite his exceptional guitar technique, it is his musical qualities that are foremost acknowledged in the world. Among his inspiration, he mentions Olivier Messiaen, Bach and Glenn Gould as well as Miles Davis, Prince and Bill Evans. In 2003 he won the Europen Jazz Award "Hans Koller Preis" for the Best Europen Jazz Musician.
Matt Penman: Matt Penman, 29, hails from the verdant pastures of distant New Zealand where his love affair with improvised music was colored strongly by the constant bars of the nearby sheep paddock. Having had enough he voyaged to the US to attend Berklee and from there made his way to New York where he has been
resident since 1995. His time in the Big Apple has seen him record 2 co-ledprojects, Urbanism(ODE) and Flipside(Naxos) and his debut CD as a leader. The Unquiet(Fresh Sound Records) featuring Chris Cheek and Kurt Rosenwinkel, as well as about 40 other albums for various artists. With The Unquiet he earned his second
nomination for New Zealand Jazz Album of the Year.
BRIAN BLADE: Having spent his childhood in the American 'Southern Badlands', Brian Blade grew up with the music of rock'n'roll, blues and gospel. Combined with his background in jazz, Brian Blade is just as comfortable with straight ahead R&B as he is with pop or jazz. Actually he plays in the band of Wayne Shorter, and beside that he plays with many different musicians like Norah Jones, Joni Mitchell and Daniel Lanois.
www.materialrecords.com