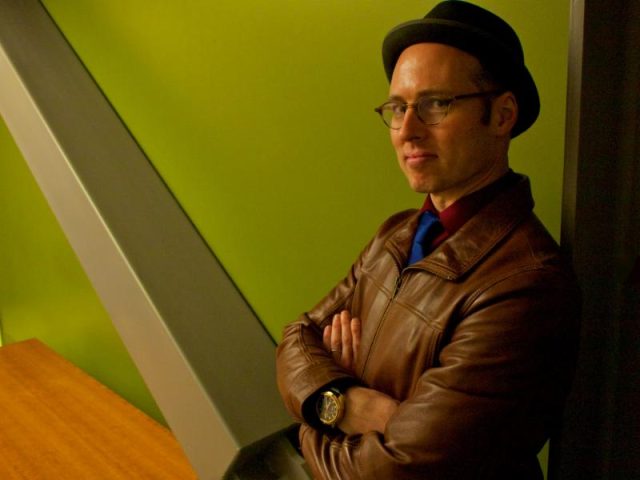 George Colligan Trio – More Powerful – European Album Launch Tour
On June 2, 2017 pianist and composer George Colligan releases his 28th album as a leader, More Powerful on Whirlwind Recordings featuring drummer Rudy Royston, bassist Linda Oh, and tenor/soprano saxophonist Nicole Glover.
For July 2016, Colligan will tour the new music from the album with bassist Michael Janisch and drummer Klemens Marktl across Europe. 

George Colligan
is not only one of the great jazz pianists of his generation, but he has earned an international reputation as a multi-instrumentalist (drums, trumpet, organ, keyboards), composer, accompanist, teacher, and bandleader.
Winner of multiple DownBeat Magazine Critics Polls, he has had a long association performing with the living legend Jack DeJohnette. With over 130 albums to date as an accompanist, Colligan has worked with a long list of jazz greats, including Buster Williams, Cassandra Wilson, Don Byron, Ravi Coltrane, and many others. A New York resident for 15 years, he now resides in Portland, Oregon where he is an Associate Professor at Portland State University.
"Mr. Colligan favors an earthy, assertive style, putting him in a lineage that includes McCoy Tyner, John Hicks and Mulgrew Miller. But he has other affinities, as he shows in a pair of spontaneous inventions provoked by the school shooting in Newtown, Conn., which claimed the daughter of a friend and sometime band mate. 'Thoughts of Ana' is a softly chiming solo reflection, with a touch that brings Mr. Jarrett to mind; it leads into 'Outrage,' which borrows a page from the Cecil Taylor playbook."
The New York Times
"George Colligan has been enjoying an increasingly visible profile and continually takes giant leaps forward." – JazzTimes  Magazine

Michael Janisch is an electric & double bassist, composer, bandleader, producer and record label owner originally from the USA currently based in London, England. As a bassist he's known for his versatility, full-toned sounds and passion for playing time and groove with authenticity and dedication, no matter the context. A keen improviser, he has been described as "virtuosic and emphatic" (The Guardian) and Bass Musician Magazine asserts "Janisch is one of the few bass players out there who plays both electric and upright with equal facility, passion and musicality."
As a composer and bandleader Janisch has released five critically-acclaimed albums to date: The TransAtlantic Collective's Traveling Song (co-led with Patrick Cornelius) in 2008, Purpose Built (debut solo album) in 2010, Banned in London (co-led with Aruan Ortiz) in 2013, and First Meeting: Live in London, Volume 1 (co-led with Lee Konitz, Dan Tepfer & Jeff Williams) in 2014. His debut solo album Purpose Built established his international reputation as one of the premier bassist-bandleaders-composers working in contemporary improvised music, and drew together his sure-footed bass work (both electric and acoustic), original compositions, and arranging skills along with some characteristically strong performances from a group comprised of prominent musicians from both sides of the Atlantic, including Jim Hart, Walter Smith III, Mike Moreno, Jason Palmer, Paul Booth, Aaron Goldberg, Phil Robson and Johnathan Blake. JazzTimes Magazine called it "the complete package" while Jazz Journal noted it was a "perfect blend of tradition and modernity" and was received with high critical acclaim by fans, press, musicians and fellow bassists, while making a number of 'Best of the Year' critics' lists. Purpose Built was also the impetus for the creation of Janisch's new record label, Whirlwind Recordings which made an immediate impact on both sides of the Atlantic. Described as "the new label of the moment, releasing a diverse cross section of excellent music." (BBC Radio 2) and "one of Europe's busiest and most creative independent labels." (The Irish Times), Whirlwind has been featured as a label in Jazz Journal, Downbeat, Jazz Thing and Record Collector Magazines as well as The New York City Jazz Record.
Janisch's new electro-acoustic six piece band Paradigm Shift has been thrilling audiences across Europe and Jazz Mann notes it's a "stellar international sextet… catch them if you can,"  while The Jazz Breakfast states "A wealth of imaginative, engaging jazz has been produced by bands that expertly bridge the styles of free-flowing acoustic jazz and electronic styles, but Michael Janisch's Paradigm Shift must surely be one of the most accomplished."  Perhaps Mumble Music sums it up best with their experience of Janisch's band in Glasgow, Scotland: "Paradigm Shift finished off the night with a tour de force display of instrumental firepower that ranks alongside any jazz gig I've been to in the past and I'm including some very big names in that list."
In addition to performing Michael is an adjunct Professor of Double Bass at the Trinity Laban Conservatoire and the Royal Academy of Music in London, and regularly gives private lessons and music career consultations from his own studio in London while performing masterclasses at universities and festivals around the world.
Janisch has performed with: Gary Burton, Quincy Jones, George Garzone, Roy Hargrove, Joe Locke, Phil Robson, Mark Turner, Shirley Horn, Dianne Reeves, Tim Warfield, John Taylor, Joe Lovano, Jaleel Shaw, Perico Sambeat, Tommy Smith, Hal Crook, Kurt Rosenwinkel, Vincent Herring, Evan Parker, Clarence Penn, Kenny Wheeler, Lee Konitz, Donny McCaslin, Walter Smith III, Sir John Dankworth, Stan Sulzman, Ingrid Jenson, Leon Parker, Mike Moreno, Gwilym Simcock, Jason Palmer, Donna Lewis, Till Brönner, Will Vinson, Christine Tobin, John Taylor, Ambrose Akinmusire, Wynton Marsalis, Chris Botti, Patrick Cornelius, Ralph Alessi, Jeff Ballard, Jeremy Pelt, Jason Rebello, Logan Richardson, Tim Garland, Aruan Ortiz, Alex Garnett, Jon Irabagon, Gary Husband, Greg Osby, Aaron Parks, Martin Taylor, Kurt Elling, Richard Galliano…

Drummer, bandleader, composer & arranger Klemens Marktlwas born in Austria in 1976. After studying classical piano at a very young age Klemens Marktl discovered his passion for playing the drums. He studied drums in Austria, The Hague, Amsterdam and New York with Carl Allen, Ralph Peterson, Greg Hutchinson, Ari Hoenig, among others. Between 1997-2003 Klemens was living in the Netherlands and worked professionally as a drummer/bandleader in the international jazz scene. He has toured and recorded with great jazz artists such as George Garzone, Seamus Blake, Aaron Goldberg, Chris Cheek, Matt Penman, Johannes Weidenmueller, Barry Harris, Jesse van Ruller, Ferdinand Povel, Michael Erian, Rick Margitza, John Swana, Rob Bargad, Kenny Werner… In Jannuary 2001 Klemens won the 1st price at the Leidsche Jazz Award (Netherlands).
After 5 ½ years living in the Netherlands he moved to New York in 2003 and has lived there for 2 years. He jumped right in the New York jazz scene and worked with Wes Anderson, Mark Rapp, Rob Bargad, Waldrin Riks, Anthony Wonsey, Toru Dodo, Rick Germanson, John Swana. During that time he also formed his own quartet with Chris Cheek, Aaron Goldberg and Matt Penman which features his own compositions. Klemens went into the studio with his new band to record his first Fresh Sound New Talent release called 'Ocean Avenue'. Klemens currently lives in Vienna and tours as a sideman and with his own projects all over Europe.