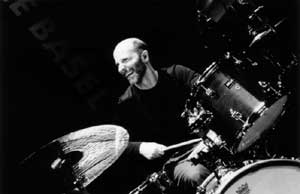 ERNTEDANK_BITTE DANKE_joey barons "killer joeys"
19 Uhr – Eröffnung:
Friedbert Aspetsberger: "Zur Lage" (Vortrag)
21 Uhr – JOEY BARON'S KILLER JOEY
lineup:
Brad Shepik_guitar
Steve Cardenas_guitar
Tony Scherr_bass
Joey Baron_drums
Joey Baron has assembled several exciting ensembles over the past few years, but his latest group, Killer Joey, is one of his most compelling to date. Featuring guitarists Steve Cardenas and Brad Shepik and bassist Tony Scherr, Killer Joey performs Baron's rhythmically exuberant and richly textured compositions, integrating the buoyant swing of jazz with indomitable r&b and funk grooves, luminous tone poems, and a inventive improvisation with sensitivity and inventiveness. Says Baron; "This group is gifted in communicating the extraordinary emotional content I wish to convey. The band's timing is great, the music is rich and lush, and the playing is spectacular." The band's name says it all: the music is fueled by the masterful musicianship and charismatic presence of Joey Baron.
STEVE CARDENAS Guitarist Steve Cardenas has diverse credits as a performer and recording artist. Having started his musical career in Kansas City, he is now an integral part of the jazz community in New York. Cardenas has backed up such greats as Eddie Harris, Jay McShann and Slide Hampton. He has played at the Montreaux Jazz Festival in Switzerland on three separate occasions. In recent years he regularly performed with such diverse artists as Maria Muldaur, Paul McCandless of the group Oregon, trumpeter/composer Jeff Beal, vocalist Madeleine Peyroux, bassist Marc Johnson, and rock stylist Tracy Bonham. Currently he is a member of the Paul Motian Electric Bebop Band as well as a group led by trumpeter/composer Mark Isham. In addition to this, he leads his own trio performing around New York.
BRAD SHEPIK Guitarist Brad Shepik was born in Walla Walla, Washington 1966 and raised in Seattle where he attended the Cornish College of the Arts, studying with Jerry Granelli, Julian Priester and Ralph Towner, among others.
In 1990, Brad moved to New York where he quickly met like-minded musicians and became involved in the creation of several groups from the nucleus of a loose collective of improvising musicians who were interested in experimenting and playing each others music. They also explored folk music from the Balkans and Eastern Europe. Out of this environment was born a number of bands that Shepik continues to perform with today including the Dave Douglas' Tiny Bell Trio, Pachora and Matt Darriau's Paradox Trio, Pachora. In 1991, Shepik joined Paul Motian's Electric Be Bop Band which he toured and recorded with for five years. In 1995, he joined Gypsy saxophonist Yuri Yunakov's Bulgarian Wedding Band with whom he performed in 1995-96. Shepik cites this experience as a major influence on his development.
Current projects include the Brad Shepik Group and the Brad Shepik Trio with Scott Colley on bass and Tom Rainey on drums. He is also a member of Tridruga, an acoustic trio with accordionist Yuri Lemeshev and Tony Scherr on bass. Other musical associations include performances with Charlie Haden's Liberation Music Orchestra (1997) and Carla Bley's Escalator Over the Hill (1997-8).
TONY SCHERR Thirty-three year old bassist Tony Scherr was born in New Haven, Connecticut and is a self taught player. He has lived in New York for a decade now currently playing electric sand acoustic bass and occasionally slide or electric guitar with Bill Frisell, John Lurie and The Lounge Lizards, Sex Mob, Slowpoke, Jesse Harris, Michael Blake, Dennis Mackrel's Manhattan Symphony, the Ferdinandos, Maria Schneider Orchestra, and the Canadian rock band Chris Brown and Kate Fenner. Recent experience includes working with Dakota Staton, Woody Herman, Al Grey, Jon Faddis, The Village Vanguard Orchestra, Sophie B. Hawkins, Junior Cook, Brad Shepick & The Commuters, Wolfgang Muthspiel, Stanley Turrentine, Steve Kuhn and Tricky. Tony also composes, sings and has played on film scores with John Lurie, Evan Lurie, Howard Shore and with members of Sonic Youth.
Foto: Bernhard Ley