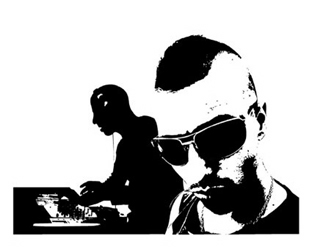 DOD_Doctors on decks
About DOD (+)
before elvis there was nothing. after elvis had died the doctors on decks were far too young to follow in his footsteps. then, only toddlers, they witnessed the mourning for the king of rock'n'roll. they were too little to understand what was going on but in their memories their mothers' tears have not dried until today. "there are two types of people in this world, the ones who love elvis and the others who don't. our mothers belong to the first group and so we imbibed their love for the king from our infancy. we were fed on king flavoured milk."
positive, they joined the raves in the early 90s. positive, they listened to paul van dyk, purchased sven väth and josh wink records. they survived the big beat, shortly fell for drum'n'bass and surfed on the uk garage wave. they found themselves in good old house in the night when the world – at least for a single moment – believed to perish when leaping from one century to another. however, the big bang, the ultimate crash failed to appear. "the turntables continued to run and the people moved to our beats right into the new born millennium." the doctors on decks came to life when – for the very first time – they stood side by side multiplying styles and skills at the "time square" event in the millennium night, ready to continue the kings' mission: heal the world with intensity.
since then they have joined forces for underground parties throughout the country and mega gigs abroad, just like in slovenia or poland. they are headliners or challenge other big names such as nigel hayes or tom novy at the nürburgring in germany.
it is a journey, each night, and each gig. each style has its way and the doctors on decks follow it up from nu skool breaks to progressive tunes, from trance and electronic dance to deep house tracks. it is their aim to find the right performance for each location and each time, and not to fight against sunrise when once again one of their gigs doesn't want to come to an end after 7 hours.
"we don't like to torpedo the rising sun with beats desperately hoping that it will go down again." the doctors on decks let light float into the darkest clubs, they dress the location in fancy clothes full of spheres and ambient sounds calming and emotionalising the audience. all after having made them shake to beats and breaks – up and down. at the very end, once again: all for the folks: the king or a barry white remix, in any case one gets surprised. "people always remember the very last track of a gig; our gigs will always be remembered with a smile."
the "good show" is a must for the doctors on decks, and who has seen them on stage knows very well what we are talking about. one track after the other, more or less well mixed, – that is not their style! "what you can do with 2 technics and a mixer was demonstrated in the 90s and was worn out. our set is growing, djing with cds offers new challenges. we are using 3 players together with an effects-device in addition to vinyl, and we are extending our playground for our individual sound with vocals, samples and acapellas, which allows us to remix the tracks live on stage. currently we are trying to insert the laptop via midi-control into our performance. that's djing for the millennium."
but still, this is not enough for the doctors. "the energy forwarded by a rock band is incomparable, no dj and no pure electronic track can get so close to the audience like musicians with their instruments and excellent frontmen can." for their live sessions, a perfect fusion of dj-club-night and rock concert, they perform together with dick janary, one of the best keyboarders and producers in austria. "dick is a bloodied musician with jazz roots. our approach to music is totally different, which is exactly what makes the performance intense and thrilling." the list of vocalists at DOD live sessions is huge just like the doctors' sound: electro-punk by diana (zweitfrau), r'n'b by boris uran, the soul-rocky performance by andi gabauer or the obscure rap by mc georgij.
when watching them perform one might think they are siamese twins as apart from themselves no one else knows who is responsible for what act on stage. they seem to be a collective, maybe connected via headset wires or accreted through music and sound. in any case they are linked since their very first gig, complementing one another. "alone we wouldn't be where we are together." their continuously crossing hands, their apparently mute agreement on stage and the pleasure in making music melt to pure energy vesting in the audience. one hears and experiences the unmistakable "doctors style": complex, groovy, riding, with intelligent esprit, partly weird and extreme, funny and flavoured, independent, limitless, a mixture of euphoria, melancholy, energy and intensity.
doctors on decks performed at "the long night of music graz 2003", in the list hall in graz, at the "floating beats" on mur island, at "neon showdown" in b72 in vienna, at the sound gallery in ra'an, at renault formula 1 party night in the art arena lokhallen at nürburgring in germany, in club africa in trebnje slovenia, in club klatka in warsaw, on mtv poland, together with dick janary and guests at their live sessions in roxy and in b72 or during their "blow" residence in roxy in vienna, and at various different other unforgettable events.
stay tuned
and hail to the king, baby.